SUMMER 2013
TCD/DC3 produces the new Alter Bridge music video for "Addicted To Pain"
TCD/DC3 Daniel Catullo directs Mariah Carey In Central Park
TCD/DC3 produces "Mariah Carey" in Central Park
SPRING 2013
TCD/DC3 produces a series of web content for TED and the TED x Hollywood Event
TCD/DC3 Films footage of Markus Schulz at Ultra Music Festival in Miami!
TCD/DC3 works with Noujaim Films to create a spot for "Chime For Change Campaign"
TCD/DC3 produces screen content for Coheed & Cambria's Summer Tour
TCD/DC3 produces new webisodes for Markus Schulz on his Scream Tour
WINTER 2012
TCD/DC3 produces and distributes the "Sully Erna Avalon" Box Set to rave reviews
TCD/DC3 is hired to produce commercials for Ollo Clip and Pioneer for CES 2013 by the Anyone Agency!
TCD/DC3 announces upcoming Alter Bridge Deluxe Box Set for mid 2013
TCD/DC3 is retained to produce a Film on Global DJ 'Markus Schulz"
TCD/DC3 produces all video on "Shiprocked 2012" with Korn, Godsmack, Five Finger Death Punch, Filter and many other bands
Summer 2012
DC3's Daniel Catullo Directs & Produces Godsmack's new music video "Rocky Mountain Way"
DC3 is retained to produce web series for Hoobastank
DC3 shoots new BTS video for Coheed & Cambria
DC3 and The City Drive Entertainment Group form strategic alliance
DC3's production of "Steel Panther- The British Invasion" gets release dates for Fall 2012!
DC3's very own Daniel Catullo produces and directs a new series with Wilmer Valderrama called "King Of The Floor" for The Collective Studios & Electus"
DC3 adds 2 new editors to their staff! We are please to welcome Leslie Atkins and Chris Weller to our team!
DC3 is retained by Slash to shoot the making of his new album for a documentary and web series
Spring 2011
DC3 produces new web series with Slash for Ray-Ban

New Alter Bridge DVD "Live at Wembley" is coming out March 26th directed by our very own Daniel E. Catullo III

Daniel Catullo directs and produces the new 3D concert film with Sully Erna "Avalon Live"

DC3 is retained by RoadRunner Records to produce web series with Black Stone Cherry and Theory of a Deadman
DC3 Global produces the documentary "Sully Erna Presents- The Journey To Avalon" airing now on Palladia

DC3 recently finishes music video shoot for Matt Sorum's new band "Diamond Baby"
DC3's "Isolation" video for Alter Bridge hits #1 and passes 1,000,000 views on YouTube
DC3 produces 5 new Webisodes for Alter Bridge

January 2011

DC3's Alter Bridge - Live From Amsterdam DVD is in stores now and hit #1 on Amazon.com. DC3's Creed - Live Blu Ray reached #3 on Amazon.com and is also in stores now.
April 2010

DC3 signs deal to promote the first annual
Rock N' Rev Festival in Sturgis, SD from August 9th-13th. 20 Bands to perform including Godsmack

DC3 artist Swayback will play Silver Lake Lounge in Los Angeles May 24th.
March 2010

DC3 produces the Godsmack web series The Making of The Oracle
DC3 films Steel Panther live at Brixton Academy London
January 2010
DC3 launches Haiti Relief Fund

December 2009
DC3 films infamous Rage Against the Machine live BBC satelite performance.
Myles Kennedy talks DC3 produced live Alterbridge DVD, solo album, and collaboration with Led Zeppelin.

December 1st 2009:
Sony Theatrical Premier of Chickenfoot Live

December 7th 2009:
Sony Theatrical Premier of Creed Live

December 8th 2009:
Creed DVD Release

November 2009
DC3 Music Group signs deal with EMI label services

DC3 signs strategic partnership with 6 Degree Group of Chicago

DC3 and Sony Digital Cinema Solutions and Services do deal to include Bravia and Playstation

October 2009
DC3 director and producer Daniel Catullo, producers Peter Bowers and Lionel Pasamonte,executive producers Brian Lisi, Mark Gregoretti, and Matt King were recently awarded 4 Guinness Book of World Records for its Creed production, including "Most Amount Of Cameras Used In A Live Music Special"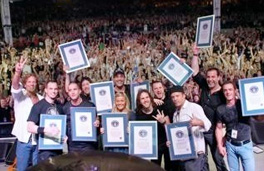 October 2009
DC3's Daniel Catullo scored his 45th #1 DVD with the release of: Atler Bridge- Live from Amsterdam